The latest 'Nickstarter' news and other releases from North Star Military Figures..
There has been a lot of new figures and rule sets come in over the past month, you'll see them all listed below, I hope there's something that is of interest to you.
Looking forward, we're planning two new projects with Osprey Games.
The first is Dracula's America: Shadow of the West. This is a Wild West gunfight game, set in a fantasy setting where Dracula has become President of the USA.
We have created a Facebook page that offers more information:
https://www.facebook.com/Draculas-America-Shadows-of-the-West-261540240960435/
We have also created a Players Page in anticipation of people getting into this game.
https://www.facebook.com/groups/DraculasAmerica/
The second is Frostgrave: Ghost Archipelago.
This is the next chapter in the Frostgrave story.
Ghost is a stand alone game set in a hotter part of the Frostgrave world, and introduces new types of Warbands and opponents.
Again we've set up a
Facebook page:
https://www.facebook.com/Frostgrave-Ghost-Archipelago-1308437555889212/
and players page
https://www.facebook.com/groups/1071008759691607/
Please give us a 'like' for each of those pages and participate in the ones covering your favourite game.
Please give us a 'like' for each of those pages and participate in the ones covering your favourite game.
Frostgrave
Ulterior Motives
The Frozen City harbours many secrets, and not all of them are ancient. While most adventurers who brave the dangers seek wealth and lost magic, some journey intoFrostgrave for more personal reasons…
This expansion for Frostgrave consists of 40 Ulterior Motives cards, which add variety, depth, and new tactical challenges to wargames in the Frozen City. Each card presents the player with a specific task to accomplish and offers rewards if they succeed. Some of these missions must be revealed to all of the players, others must be kept secret. Will your wizard seek to slay a great demon? Rescue a desperate captive? Bring retribution to an enemy?
All wizards seek power, but what are their ulterior motives?
42 oversized cards (40 Ulterior Motive cards, 2 cards of rules)
Mad Dogs With Guns
WARGAMING IN THE GANGSTER ERA
Howard Whitehouse Roderick Robertson

Illustrator: Peter Dennis
In 1919, the US Government declared the production, distribution, and sale of alcohol illegal. America officially became a 'dry' land. That didn't stop people from drinking, however, and the rise of the 'speakeasy' offered huge new opportunities for organized crime. Soon, cities both large and small became battlegrounds as various crime syndicates vied for control of the underground alcohol trade.
In Mad Dogs With Guns, players form their own small gangs of fedora-wearing, tommy gun-wielding gangsters and battle it out with their rivals. With numerous different gangs to choose from, including cops and G-men, a fully integrated campaign system, and rules for special situations such as car chases, the game offers a huge variety of tactical challenges. Bribe public officials, attend a gangland funeral, but always watch your back - there is always another gang waiting to poach your territory…
Flames of War
World War Two
Desert War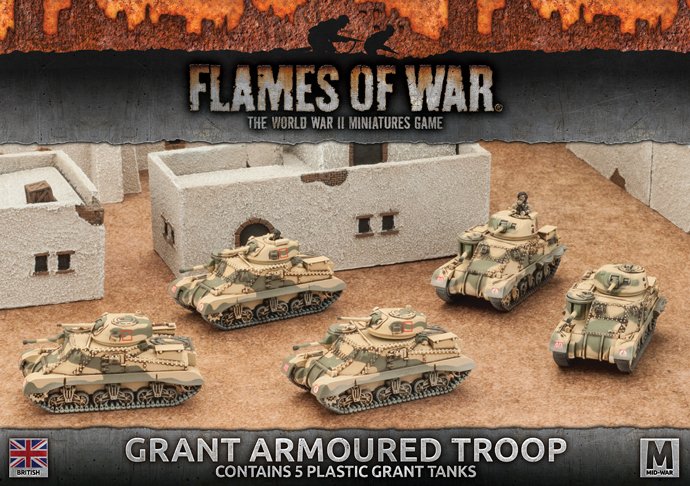 BBX37 - Desert Rats Grant Armoured Troop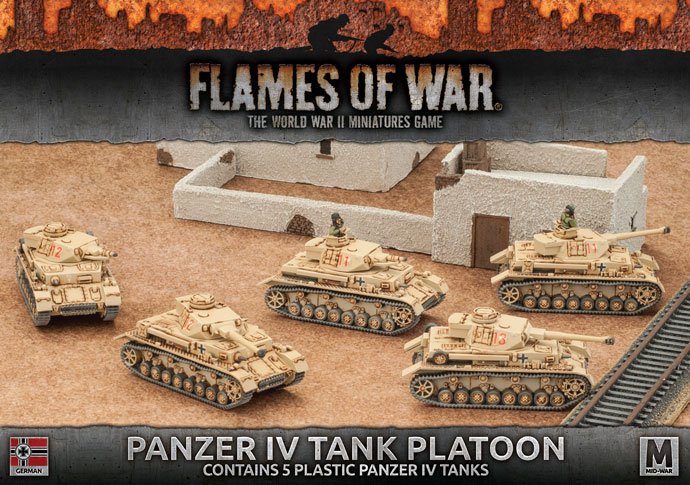 GBX97 - Afrika Korps Panzer IV Tank Platoon
Western Medieval
FFG160 - Birger Jarl
Burn & Loot (Deus Vult)
This game focuses on small engagements fought between the Eleventh and Fourteenth centuries in both Eastern and Western Europe. With Burn & Loot, you can simulate any kinds of battle, from small clashes between patrols, to large battles and attacks on strongholds.
Several battle scenarios are included in this book so you can face a new challenge every time you play.
In this book you will also find army lists that allow you to quickly and easily assemble a force for battle.
Exterminate!
In to the Time Vortex Game
DALEKS & DAVROS EXPANSION SET
CYBERMEN & MISSY EXPANSION SET
DOCTOR WHO: NIGHTMARES IN SILVER
Great Escape Games - Dead Mans Hand
Curse of Dead Mans Hand
28S-DMH-S4 - The Curse of Dead Man's Hand Building Collection
28S-DMH-132 - The Cursed Church
Dungeons & Dragon DM Screens
D&D73701 - DM Screen: Tyranny of the Dragon
Giants in Miniature
Painting Guides
Wargames Illustrated
Wargames Illustrated 356
OBSERVATION POST
THEME: Why I love Death in the Dark Continent.
EXTERMINATE! Across all of Time and Space, war rages and the innocent suffer. We need a few good men, or perhaps just one Timelord and his companions. It's a Time for Heroes, it's the time of The Doctor….
THEME: A TALE OF three armies We gave three gamers the chance to create their own forces for the updated Death in the Dark Continent rules. Here's what they came up with.
THEME: MODELLING IDEAS - AFRICAN TERRAIN Chris Peers shares some ideas on how to make your games set in the Dark Continent actually look like the Dark Continent.
The Lost City of Z. THEME: battle for EGYPT 1801 A pictorial account of the British invasion of Egypt during the Napoleonic Wars, aimed at ousting the French Armee D'Orient, as re-created by Alan Perry.
club focus: BOSCOMBE DOWN & AMESBURY WARGAMES CLUB Our latest article in this series focuses on a UK based club with links to the military.
Fighting Talk: Regrets Mark Shearwood has had a few. And we bet you have too.
Bolt Action
Campaign: Sea Lion
The year is 1940, and the German invasion of Britain has begun. With this new campaign book for Bolt Action, players can fight the battles of World War II's greatest 'what if' scenario. Defend the cliffs of Dover and the beaches of Kent from wave after wave of German landing craft. Parachute into the Home Counties in a surgical strike to capture Winston Churchill. Rally the Home Guard in a last, desperate attempt to keep England free of the Nazi invaders! Containing new rules, scenarios, and unit types covering all of the unique features of this alternate history campaign, it offers a chance for all Bolt Action players to truly rewrite the history of World War II.
General d'Armee
Designed by Dave Brown, General d'Armee are designed for action from Division upwards for the Napoleonic period. Dynamic and fast-paced, General d'Armee uses the ADC command and control system first seen in Pickett's Charge to put you in the shoes of the commanding General, deciding how and when to use your influence to control and win the battle.
Packed with Napoleonic flavour, General d'Armee uses the battalion as the smallest manoeuvre element, the Brigade the lowest tactical command. A typical club night action involving several Brigades per side and a full day or weekend handling a Corps or two with ease.
108 pages in length with two A4 laminated playsheets, General d'Armee includes rules for using both 15mm and 28mm figures, suggestions for organising your armies with a point system and a guide to rating force. An introductory scenario is all you need to get playing with this great new set of rules from the master of the big battlefield.

Crusader World War II - French
French Motorcycle Troops
WWFbik
- French Motorcycle and Sidecar
Painting War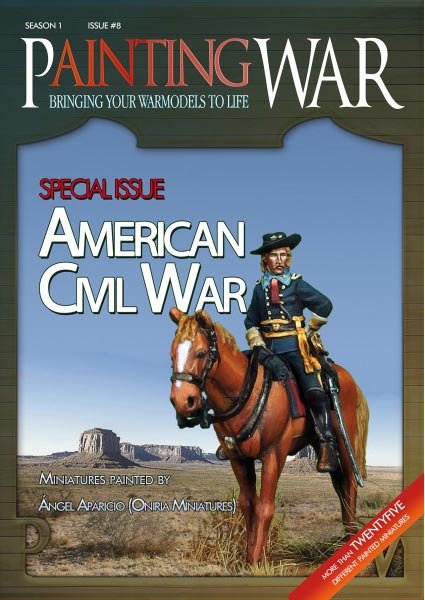 Painting War 8: ACW
Awesome special issue on how to paint American Civil War armies. More than 25 different miniatures painted by Ángel Aparicio (Oniria Miniatures), and a complete painting guide.
Swordpoint: Classical Armies
SWORDPOINT Classical Armies provides you with all the information you need to field Classical Armies in your games of SWORDPOINT.
The book covers the period 500 BC to 300 AD and contains 59 army lists with many variants.
You require a copy of SWORDPOINT Ancient and Medieval Wargames Rules to use this book.
please
'like' us on Facebook
Frostgrave is copyright Osprey Games 2017. Miniatures are all copyright North Star Military Figures Limited & Osprey Games 2017.