The latest from North Star Figures...
Welcome to Newsletter #108
The Nickstarter pre-orders for Frostgrave's'Forgotten Pacts' have all been sent out, we're starting to see some peoples work already on Facebook with painted plastic Barbarians and game reports, I'm happy to say it has been very well received.
The Barbarians and rulebook are now available to buy on there own, they are listed below.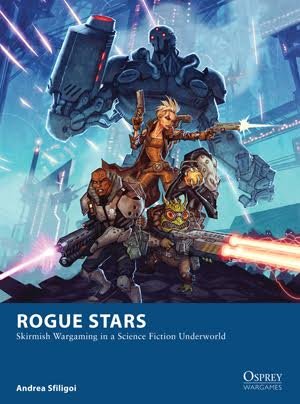 We are in the middle of our next Nickstarter, this time for Rogue Stars. Rogue Stars is the Science Fiction game from Osprey Publishing due out in December. We have made a character based range of metal figures to go with it and you can join in the Nickstarter pre-orders below.

Mark Copplestone
has unexpectedly added five new characters to the mix, we've added them to the pre-order as we wanted to share them with you now rather than next year!
There's something new for fans of North Starplastic figures this month. We've made a set of sci-fi weapons in resin that fit our FrostgraveCultists. This way you can now take your Cultists into Space. Of course, because our plastics are interchangeable, you can have Space Soldiers, Space Gnolls and Space Barbarians.
Our older plastic figures are now available as single frames.
We are having a Christmassale! We've created St. Nick's Grotto, and filled it with items that we think will make great Christmas presents for either yourself or your gaming buddies. We also have re-released some of the novelty Christmas figures from our old back catalogue to help celebrate the festive season.
The Christmas sale will stay up until mid-December, if you order some of the bigger games like Escape From Colditz please include your phone number as we'll be sending it by courier.
Once you've bought a deal, either the book with free figure or the complete deal, you are entitled to buyextra Rogue Stars figures.
They are all listed below for you to peruse through.
They are available individually to Nickstarterparticipants, please note when they go on general release they will be sold in packs.
new characters for
Rogue Stars by Mark Copplestone
North Star Plastics
Plastic models produced by North Star Military Figures and Osprey Games for the game Frostgrave. They are the frames the box sets. North Star have added some conversion packs to take those figures beyond Frostgrave.
FSB002 - Cultist Sci-Fi Accessory Pack
Frostgrave Space Cultist
Frostgrave Space Gnoll
Frostgrave Space Soldier
Frostgrave Space Barbarian
Visit St Nick's Grotto!
Christmas is coming soon! Visit St. Nick's Christmas Grotto for lots of Christmas present ideas.
Offering a number of items we think would make great presents for you to get your wargamer mates, or for you to direct people to for your present!
Xmas4 - What the Dickens?
Frostgrave Supplement
In this supplement for Frostgrave, players lead their warbands into the northern reaches of the city, exploring the ruined temples of the Frozen City to search for the lost secrets of evocation - the art of summoning demons. While the lure of such knowledge is great, few wizards have ventured into this region as it is overrun by barbaric northern tribesmen who have descended from the hills in their own search for treasure. Marking themselves with demonic sigils, many of these barbarians have aligned with ancient powers discovered amongst the temples. Along with a host of new scenarios focusing on the exploration of the temples, the book also contains new treasures, spells, soldiers, and creatures that can be found amongst the ruins.
FGVP04 - Frostgrave Barbarians
Frostgrave Calender
A beautifully illustrated wall calendar featuring 12 favourite piecesof Frostgrave artwork, all major UK, US and Canadian Holidays, as well as a notes section and year overview for 2017-2018.
Adrian's Walls pre-painted resin terrain

Crusader World War II - Germans
WWG161 - German Schützen Firing 8cm Mortar
10th Doctor and Companions
A COUPLE OF B'STARDS
Lt. Hail and his Batman are renowned for their work behind enemy lines, bringing terror to German soldiers wherever they can be found. The brutality with which they hunt and dispatch their foes is extreme, but so too is the behaviour of many of the men they kill. Lt. Hail is an expert with captured weaponry and employs his granpa's hunting knife to shocking effect. His compatriot wields his chosen piece of sporting equipment with a savage abandon, seeming to take delight in engaging the enemy at close range. Together, they exact revenge upon those who would persecute others for their beliefs and origins, fighting fire with fire, and ready to do whatever it takes.
Age of Caesar
Hail Caesar supplement
Join the mighty Caesar at the beginning of his glittering career of conquest and refight one of his most famous battles against those heinous enemies of civilisation, the dreaded Germans led by none other than that ambitious fiend Ariovistus of the Suebi.
March with Caesar's legions into the land of implacable savages as our hero subjugates the barbarous Gauls and confronts that most dangerous of moustachioed monstrosities the treacherous chieftain of the Arverni tribe, Vercingetorix.
Cross the Rubicon and cast your own dice as Caesar pursues his rival Romans across continents in the Roman Civil War, facing his most deadly challenge yet in the form of famed conqueror of the East, Pompey the Great. Fight by Caesar's side as he wages war for mastery of the Roman World upon battlefields soaked in Roman blood.
Trees and Scenics
TSM-137 - Scrim Foliage - Draught Hues
Terrain and Obstacles
28S-TAO-132 - 28mm Pylon
British
TBRAB1 - Charlie's Chieftains - British Army Deal
Star Trek - Ascendancy
Star Trek™: Ascendancy, the strategy board game of exploration, expansion and conflict between the United Federation of Planets, the Klingon Empire, and the Romulan Star Empire. Boldly go where no one has gone before. In Star Trek™: Ascendancy, you control the great civilizations...
please
'like' us on Facebook
Frostgrave & Rogue Stars are copyright Osprey Games 2016. Miniatures are all copyright North Star Military Figures Limited & Osprey Games 2016.
Copyright (C) 2003-2016 North Star Military Figures Limited Ltd All rights reserved.