The latest release news from North Star...
Nickstarter Shipping now!
Hello Everyone.
This is a newsletter just for participants of theRogue Stars Nickstarter pre-order program really.
The great news is we're shipping now; please expect your parcel to arrive any day.
Keep in mind the post office is at its busiest part of the year, and they will often hold packages they can't post through letter boxes back at the Sorting Office.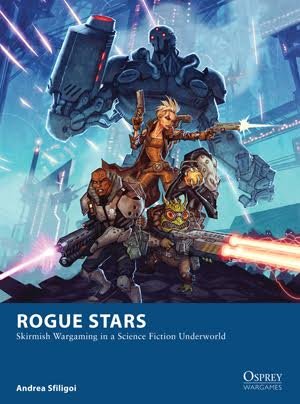 We're letting you know because the Nickstarters are going out later than we hoped. Our supply of rulebooks went 'the long way round' to get to us, they were scheduled to arrive Friday 2nd December. Our plan was that the Nickstarters would arrive before the rulebook was on shop shelves, but we couldn't achieve that.
Rogue Stars official release date is the 17th of December, so we're still getting things out early to you.
We hope you like the rules and the figures.
Kev has put together a gallery on his magazine website, and taken new photographs of the latest figures for you to enjoy.
The Rogue Stars figures will officially be released in January 2017, and we'll have new characters to show you then as well. Don't forget we put all the latest news on our Facebook page.
Merry Christmas
Nick Eyre
new

Rogue Stars by Mark Copplestone
Brief Instant of Pain

(at least that's what her friends would call her, if she had any) - another of those Vandirian assassins that everyone's heard of but is glad never to have met. Not big on banter, but happy to talk knives and neurotoxins.
Krokk


A bad-tempered, slow-thinking but tough mercenary. Spends a lot of time in deep-hibernation in a musty box of Sepulchrian nutrient moss. Inspired by a conversation with Kevin Dallimore about his pet tortoise.
Lothar

Van Driek

Once a starship captain in the fleet of the Alexandroff Autarky he had to flee after his role in the failed Expunger Rebellion was betrayed by his closest friend. Increasingly paranoid he lurks with his ship inside a nameless, hollowed-out asteroid brooding darkly on the unfairness of the universe. His centipede familiar is sensitive to the pheromones given off by traitors, assassins and liers - and can spit acidic bile a surprisingly long way.
Hfrrr

He always wanted to be a Space Patrol officer, but his tendency to forget his own strength meant that he was never any good at that whole "proportionate use of force" thing, or at any of that other legal stuff. Currently working as a gun (or sword) for hire. Ask in the right places and you'll find him.
Cassidy

As a little girl since she saw her mother and father killed in a pirate raid on the orbital Elysium III and she promised herself that she would do her bit to make the galaxy a safer place. Now she's an agent of the Space Patrol, proudly wearing the white armour of the incorruptible Special Circumstances section.
ROGUES GALLERY
Kev has finally finished painting all the first release and is showing them off here!
please
'like' us on Facebook
Frostgrave are copyright Osprey Games 2016. Miniatures are all copyright North Star Military Figures Limited & Osprey Games 2016.