More new releases from North Star...
What already!? I hear you cry. I know we sent out a newsletteronly last week, but if you recall, I apologised because we had to miss out so much stuff last time.
Kev and I were chatting, and we decided we'd send out another newsletter in quick succession to cover the excellent products we didn't tell you about.
Top of the tree is just to let you all know the pre-orders for Oathmark Goblins have been sent out. I'm very pleased about this because I wasn't sure we could do it, but we have. I expect most people in the UK and Europe will get theirs before Christmas. I can't make the same promise further afield. I'm sorry to say some orders to places, like Canada in particular, have taken 6 weeks to arrive this year, I can't imagine with the Christmas post it will have got better. Fingers crossed everyone will be spending their holiday break gluing and painting Goblins!
We are taking pre-orders now for Gangs of Rome, a new game and figure range from our friends atWar Banner. The bundle deals are the perfect way to get you really into the game, and you get two limited edition character figures with each one. We're planning to get everything out to you in January 2018.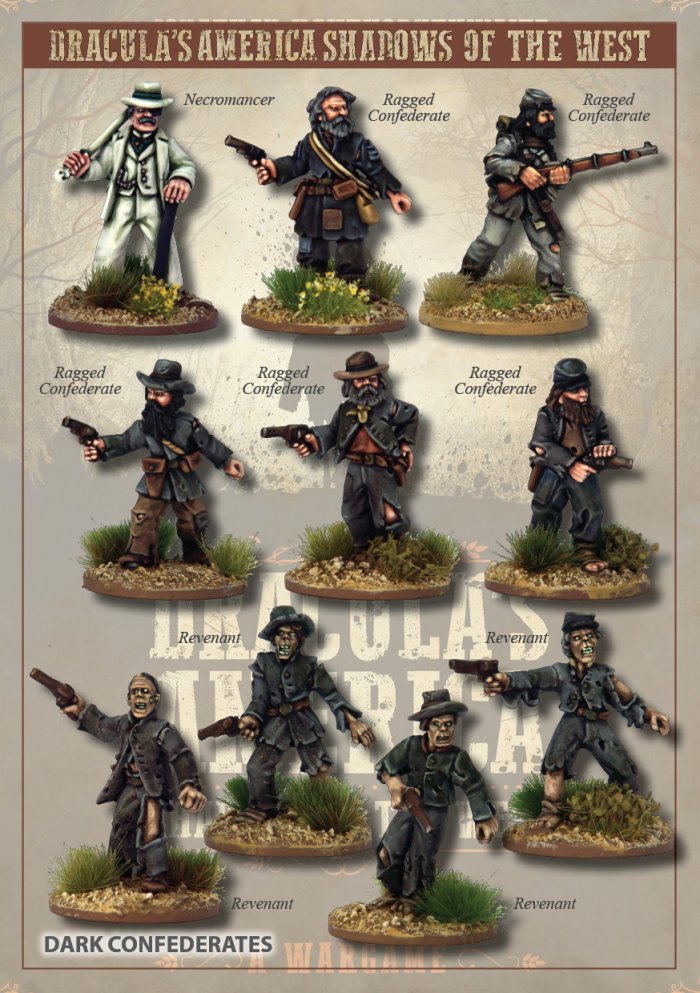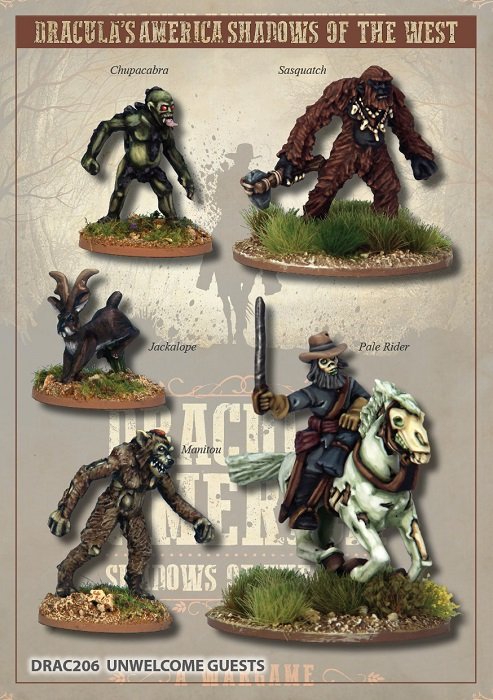 Dracula's America. Are you playing yet? If not, perhaps all you were waiting for was a Posse all worked out for you. Well, we've done it! Have a look below at the new Dracula's America posse deals. On the subject of Dracula's America, there will be asupplement for the game with new posses, new adventures, coming out in January. We will be stocking it of course and we will be doing new figures for the new Posses. Keep following the newsletters for more information.
Saga. The most popular Dark Age skirmish game in the history of wargaming is planned for a revamp next year. Saga 2 is coming out early 2018. If you don't have Saga 1, now is the time to buy it because we're selling off our last copies at half price. It'd be an idea to add it to your games library, and there's a good few months of Dark Age gaming before Saga 2 comes out.
I wish you a Merry Christmas, we will contact you before the 'big day' so you'll get another cheery message this year, and I hope we've something here you want for your present under the Christmas Tree.
Cheers
Gangs of Rome
Inspired by the history of the great city, Gangs of Rome takes place in the shadows of the Empire where the heads of ambitious houses have gathered fighters forged hard by the streets to do their bidding and enact their schemes.
Coming January 2018
Dracula's America: Shadows of the West
is a skirmish game of gothic horror set in an alternate Old West. Secret wars rage across the country - from bustling boom-towns to the most remote wilderness - as cults and secret societies fight for power and survival.
Ready made Posses to use in Dracula's America
Stripes
The United States has the most powerful armed forces in the world. Three army corps stand ready to defend Western Europe from the red horde poised across the Iron Curtain.
The US Marine Corps' amphibious troops are ready to be deployed where needed with their own tanks, Light Armored Vehicles, and hard fighting infantry, backed by their own support. Those commies won't know what hit them!
Ryan's Leathernecks
Plastic Army Deal
. Contains three plastic M60 Tanks, six plastic HMMVW utility vehicles, one tank commander sprue, one HMMVW crew sprue, one decal sheet, seven unit cards, one mini Team Yankee rulebook and one printed Assembly Guide booklet.
Oathmark Goblins
OAKP102 - Goblin Infantry
T
he Great Goblin Command
sculpted by Mark Copplestone
OAK103 - Great Goblin, Shaman, Drummer
OAK104 - Goblin Champions
The Crescent
& The Cross
Full colour hardback book, 120 pages. Comes with 6 cards stock Battle Boards and a Quick Reference Sheet.
Contains full SAGA rules, details and rules for six new factions from the Age of The Crusades, rules for Dogs of War units & Priests plus new scenarios.
Modiphius - Star Trek
THE ORIGINAL SERIES BRIDGE CREW
Painted by Graham Green, photographed by John Treadaway
Victrix Ltd.
Ancient Greece
Ancient Rome
Carthaginians
Napoleonic Wars
Plastic Bases
WW2 Aircraft
VXA029 - African War Elephant
1980's Civilian Cars
What does every 1980's terrain need? Cars. They were everywhere. N-FX have designed 6 commonly seen European cars, in 15mm,to add to your Cold War gone Hot table-tops.
HEY! Look what we won.
Hurrah!! Thank you very much if you voted for us, it is very unexpected.
Flames of War
Armies of Late War
Armies of Late-War contains the US, German, British, and Soviet forces involved in these dramatic campaigns to liberate Europe. These give you everything you need to field these forces in a Flames Of War game, including the up-gunned M4 Sherman (76mm) and Firefly VC tanks, the powerful M36 Jackson tank destroyer and Cromwell tank, the deadly Churchill Crocodile flame-tank, the M16 with its quadruple .50 cal machine-guns, the lethal Jagdpanther and Jagdtiger.
GBP16 - Dark Age Cavalry
Saga Rulebooks
Gripping Beast - Saga Figures
Frank Faction
Great Escape Games
Curse of Dead Mans Hand
Battlegroup Market Garden Campaign Supplement
96 page softback campaign supplement detailing the Market Garden operation in the Holland September'44.
Packed full of historical information and narrative, scenarios and a mini campaign. Plus contains airborne army lists, amendments and additions to German army lists
Please note you need the Battlegroup Overlord: Beyond the Beaches campaign supplement (or the original Battlegroup Overlord book) and the main ruleset to play Market Garden
please
'like' us on Facebook
Frostgrave is copyright Osprey Games 2017. Miniatures are all copyright North Star Military Figures Limited & Osprey Games 2017.
Copyright (C) 2003-2017 North Star Military Figures Limited Ltd All rights reserved.