The latest releases from North Star Games...
-------------------
One of you reading this is potentially a winner! At the end of September, one Newsletter Subscriber will be chosen, and they will get a £100 voucher to use in our website.
You are already in the mix, but if you have any friends who don't subscribe, let them know!
Nick
New set of Interwar Armoured Fighting Vehicles from HLBSCo and Copplestone Castings
Trent Miniatures wagon train offer, get 6 horses for the price of 4
Wargaming in 19th Century Africa
Death in the Dark Continent is a 176 page, full colour, hard back book that takes the reader deep into late 19th Century Africa.
At it's heart is a wargame, a game that allows the player to field armies of miniature figurines representing African Tribes, European Invaders and Native Kingdoms.
With an emphasis on the people of Africa as well as the Colonial Invaders, Death in the Dark Continentis a unique publication offering 80 different army lists covering all the vastly different forces in Sub-Saharan Africa 1870 to 1899.
Death in the Dark Continent also includes a historical background to the situation in Africa 1870-99, a who's who of the major players and a 'bonus' skirmish game.
Free PDF. When you buy a copy of Death in the Dark Continent from North Star, we'll email you a stripped down PDF of the rules. The PDF will just be of the basic game and a QRS, no background, army lists nor the extra hunting game. That way you can take a small print out or your tablet to the game rather than the hardback rulebook.
A splendid Ruga Ruga army deal for Death in the Dark Continent available for a limited period. 40% discount.
DitDCArmy4 - Ruga Ruga Army Deal
In case you didn't know, the errata for Death in the Dark Continent. are listed at the top of the Facebook page for the game.
THE ARMIES OF REI BOUBA THE "SILENT CITY"
INCLUDING ARMY LIST FOR REI BOUBA THE "SILENT CITY"
Rubicon Models 1/56th 28mm scale plastic WW2 tanks
GAZ-AA / GAZ-AAA
World at War 28mm Buildings
World at War 10mm Buildings
Fabled Realm
28mm
Mordanburg
Dockside Gallows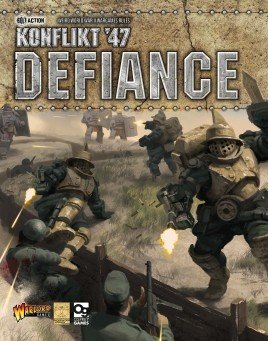 Konflikt '47
Defiance
Delving deeper into the weird world of Konflikt '47, this supplement presents a range of new material for the game, including:
- New units: Options for troops and technology that can be added to the armies presented in the rulebook.
- Special characters: Field the best of the best, elite men and women who may singlehandedly be the crucial element between victory and defeat.
- New background: The history of the world of Konflikt '47 is detailed in more depth.
- New rules: All-new means of waging war, including material previously published online.
Masters of Devil Reef #1
Saga Figures
Teutonic Knights
please
'like' us on Facebook
Copyright (C) 2003-2018 North Star Military Figures Limited Ltd All rights reserved.
North Star Military Figures Limited. (Company number 6215435 registered in England). Registered office: W37, Lenton Business Centre, Lenton Boulevard, Nottingham, NG7 2BY, U.K. Telephone 0115 9786656.