The latest release news from North Star Games...
---------------------
Welcome to Newsletter 145
I did warn you, they are coming thick and fast this week!
There was so much great product released at Salute this year, we've had to break the newsletter down into two.
First thing is to warn you that this is the last weekend you can buy our Oathmark Elf Launch deals.
The plastic Elves will be on general sale from Tuesday, but the free Elf Championand the individual Elf Characters will not.
The six Elf Characters will be going into multi-packs later in the year, but you'll not be able to get the free Champion again.
Kev Dallimore has put together the new Elves here and will be showing you how he painted them in the next part!
The big product this newsletter is Saga Age of Crusades. This is the second supplement for Saga 2, covering the Crusades (of course). Saga 2 has proven to be a massive success, if you haven't bought into it yet, have a look soon.
Gripping Beast's other book release is the Charlemagne supplement for Swordpoint.
So have a read through the newsletter, there's lots to see and I hope we've something that'll catch your interest.
Nick
Oathmark - Elf Champions
Foot Knights
Artizan Design North West Frontier
Punjabi Cavalry
British Drum Major
Alien V Predator
AvP
Alien King
Plastic Landsknechts starter army
Greek Light Cavalry
Battlegroup
Torch
EGYPT, 1942... After defeat at the Battle of Gazala, the British 8th Army has been chased back through the western deserts, fighting a rearguard action to hold the line near a railway halt called El Alamein. Here, the tide of the desert war would turn decisively in the British's favour. At El Alamein Rommel's weary army was repeatedly defeated and forced into a very long retreat to save itself. Meanwhile, American and British troops land on the shores of Morocco and Algeria in Operation Torch, with the plan to cut-off the Germans by capturing Tunisia. A hard seven-month campaign would follow in the final struggle to capture North Africa.
SAGA
Age of Crusades
(Supplement)
SAGA Age of Crusades is a SAGA Supplement which covers the wars of faith fought in the West and the East from the First Crusade to the Mongol invasions.
This Universe offers 12 factions covering every arena of battle, each one with its own Battle Board, legendary unit, heroes and special rules.
The book also contains auxiliary units to recruit, and a variant on the standard game which transforms your game into a battle of faith!
Follow in the wake of Godfrey of Bouillon, join the ranks of the Teutonic Order, fight alongside Saladin or resist with the Baltic tribes. Do not weaken for the valian will survive and win eternity in heaven!
Plastic Saracen Starter Warband

(4 points)
Contains enough multi-part 28mm plastic figures to make: 1 Mounted Warlord, 8 Mounted Hearthguards, 8 Mounted Warriors and 8 Warriors on foot. Plus extra bits and pieces. Contains all weapons, shields and bases. Comes unassembled and unpainted.
Saga Figures - Goths
Western Mercenaries!
8 unscrupulous types available as Auxiliaries for most of the Christian Factions in SAGA Age of Crusades.
Supplied unpainted and unassembled but with all weapons, shields and bases.
These figures represent a rag-tag mercenary band from the period of the 1st and 2nd Crusades in Outremer. This period was very fluid in terms of dress and weapons with the Western Europeans rapidly adopting and adapting to the alms, and armour of their Eastern allies and enemies. The main access route to Outremer for the Westerners was over-land through Byzantine where the heady mix of East & West must have been an eye opener for them. Also, a large part of the Christian forces were actually made up from local Christians who would have been pretty identical to their Muslim neighbours in terms of dress.
Flames of War
WW2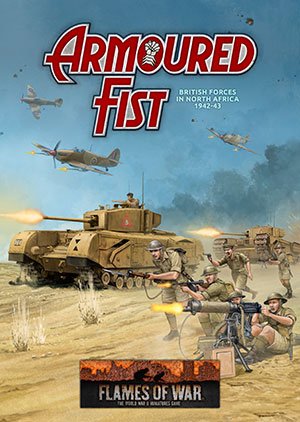 Armoured Fist
British Forces in North Africa '42-43
The new Force diagram allows players to field these new Formations as well as all the older formations from Desert Rats. This means your Sherman Armoured Squadron can be supported by a Motor Company (found in Desert Rats). Rather than forcing players to dig through two books when building the army we decided to add the lists found in Desert Rats to Armoured Fist so players would have a complete set in one place.
Free Churchill Tank!
Including these older lists in the book was a simple decision for us as it makes life easier for our players, but we also recognise that people have bought Desert Rats and have been using it for the past year.
To thank our veterans of the desert when you purchase Armoured Fist just show the retailer your copy of Desert Rats, get our "Churchill Tanks Deployed" sticker added to the inside cover and receive a free Churchill Tank sprue. You now have your first Churchill tank so you can start building your North Irish Horse Churchill Armoured Squadron (or just a platoon).
please
'like' us on Facebook
Copyright (C) 2003-2018 North Star Military Figures Limited Ltd All rights reserved.
North Star Military Figures Limited. (Company number 6215435 registered in England). Registered office: W37, Lenton Business Centre, Lenton Boulevard, Nottingham, NG7 2BY, U.K. Telephone 0115 9786656.